Bathing Your Baby
You can bathe your baby with InfaCare two or three times a week, however it's okay to bathe them daily if they need it. It is advised not to keep baby in any bubble bath for longer than 30 minutes as this may irritate their skin.
InfaCare ultra-mild Baby Bubble Bath produces loads of bubbles which your baby will enjoy playing with, and because they are so mild and gentle they are suitable for babies' sensitive skin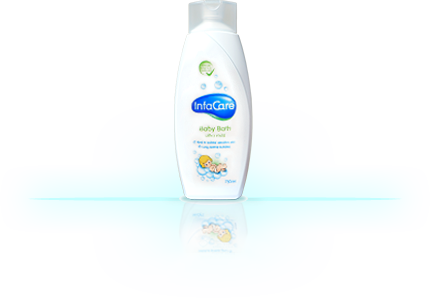 The best time for bathing a baby is when they're awake and happy. Not after feeding and not if they're hungry or overly tired. InfaCare in a bubble bath is ideal to use as part of baby's bedtime routine as this is an aid to relaxation, so helping them sleep.
Bath Time Routines:
Get everything ready
1. Add one small squeeze of InfaCare into a baby bath or bowl whilst running the tap. Do not put baby in while the tap is running­ the water could get too hot or too deep.
2. Test the water temperature before putting baby into the bath. Make sure it's not too hot (around 37-38 degrees C). Mix the water well to avoid hot spots.
3. Before baby gets into the bath clean baby's eyes and ears with clean fresh water and fresh pieces of cotton wool. Make sure you use a clean piece of cotton wool for each eye and ear to potentially avoid spreading any infections.
4. Do not clean inside the ears and it is advised not to use cotton buds in baby's ears.
5. Make sure you support baby well whilst in the bath.
6. Gently wash their hair with the InfaCare bathwater. Keep their hair out of the water. Take care not to splash water in their eyes.
7. Take care when lifting baby out of the water as they will be slippery when wet. Take them out gently and lie them on a towel so you can gently pat baby dry, taking special care between skin folds.
NEVER LEAVE YOUR BABY ALONE IN THE BATHWATER. NOT EVEN FOR AN INSTANT. BABIES CAN DROWN IN JUST A FEW CENTIMETRES OF WATER.
It is advised not to bathe your baby for longer than 30 minutes.
Your baby should enjoy being bathed. Talking to them during bathing helps if they cry or are a little frightened at first. InfaCare Baby Bath produces loads of bubbles which they will enjoy playing with, and they are mild and gentle so won't irritate baby's skin.
Need Help? Contact us to find out where to buy InfaCare near you.
Suitable for
Babies' sensitive
skin
6 Months - 2 Years Old